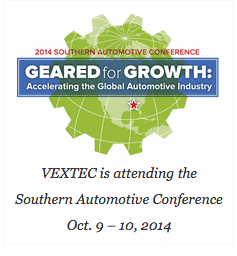 Oct. 6, 2014 – Brentwood, Tenn. — VEXTEC's Chief Technology Officer, Dr. Robert Tryon and Chief Product Development Office, Dr. Animesh Dey, will be attending the 2014 Southern Automotive Conference, October 9 – 10 at the Birmingham-Jefferson Convention Complex in Birmingham, Alabama.
At the conference on Thursday Oct 9th at 2:15, a panel presentation will be hosted by ArcelorMittal and Kia on "The Innovation Imperative" to discuss a study that stressed the need to innovate close to the production lines to incorporate essential technologies faster. The Brookings Institute conducted a study in 2013 titled, "DRIVE! Moving Tennessee's Automotive Sector Up the Value Chain" which discussed the need for the South to transform its automotive manufacturing base into an definitive "advanced industry." One of the challenges identified in the study is insufficient private research & development (R&D) resources and shortage of collaborative technology development throughout the Southern auto supply chain. This panel will explore novel approaches to identifying technology needs and to improving the ability to innovate locally.
VEXTEC is a local company in Nashville, Tennessee that has received over $25 million in Federal R&D funding specifically for advancing the manufacturing production lines of durable goods. With this funding, they have developed methods known as Virtual Life Management® (VLM®), and obtained seven patents along the way. VEXTEC now provides services in the areas of production line reliability, risk assessment and durability prediction for manufacturing companies of structural, mechanical and electronic products. At the Southern Automotive Conference Dr. Tryon and Dr. Dey will be looking for manufacturers who could benefit from this technology. Both will be available after conference hours for detailed discussions.